1 min ago
Stories of Ukrainian resistance revealed after Kherson pullout
From CNN's Vasco Cotovio, Sam Kiley, Peter Rudden and Olha Konovalova
Two Russian soldiers walked down a street in Kherson on a spring evening in early March, just days after Moscow captured the city. The temperature that night was still below freezing and the power was out, leaving the city in complete darkness as the soldiers made their way back to camp after a few drinks.
As one stumbled on, the other stopped to relieve himself on the side of the pavement. Suddenly, a knife was thrust deep into the right side of his neck.
He fell to the grass. Moments later, the second Russian soldier, inebriated and unaware, met the same fate.
"I finished the first one immediately and then I caught up with the other and killed him on the spot," says Archie, a Ukrainian resistance fighter who described the scene above to CNN.
He says he moved on pure instinct.
"I saw the orcs in uniform and I thought, why not?," Archie adds, using a derogative term for Russians, as he walks through that same street. "There were no people or light and I seized the moment."
The 20-year-old is a trained mixed martial arts fighter, with nimble feet and sharp reflexes, who had previously always carried a knife for self-defense, but never killed anyone. CNN is referring to him by his call sign to protect his identity.
"Adrenaline played its role. I didn't have any fear or time to think," he says. "For the first few days I felt very bad, but then I realized that they were my enemies. They came to my home to take it from me."
Read more here.
24 min ago
Macron denounces Russian airstrikes as "war crimes" against Ukraine's civilian infrastructure
From CNN's Pierre Bairin in Paris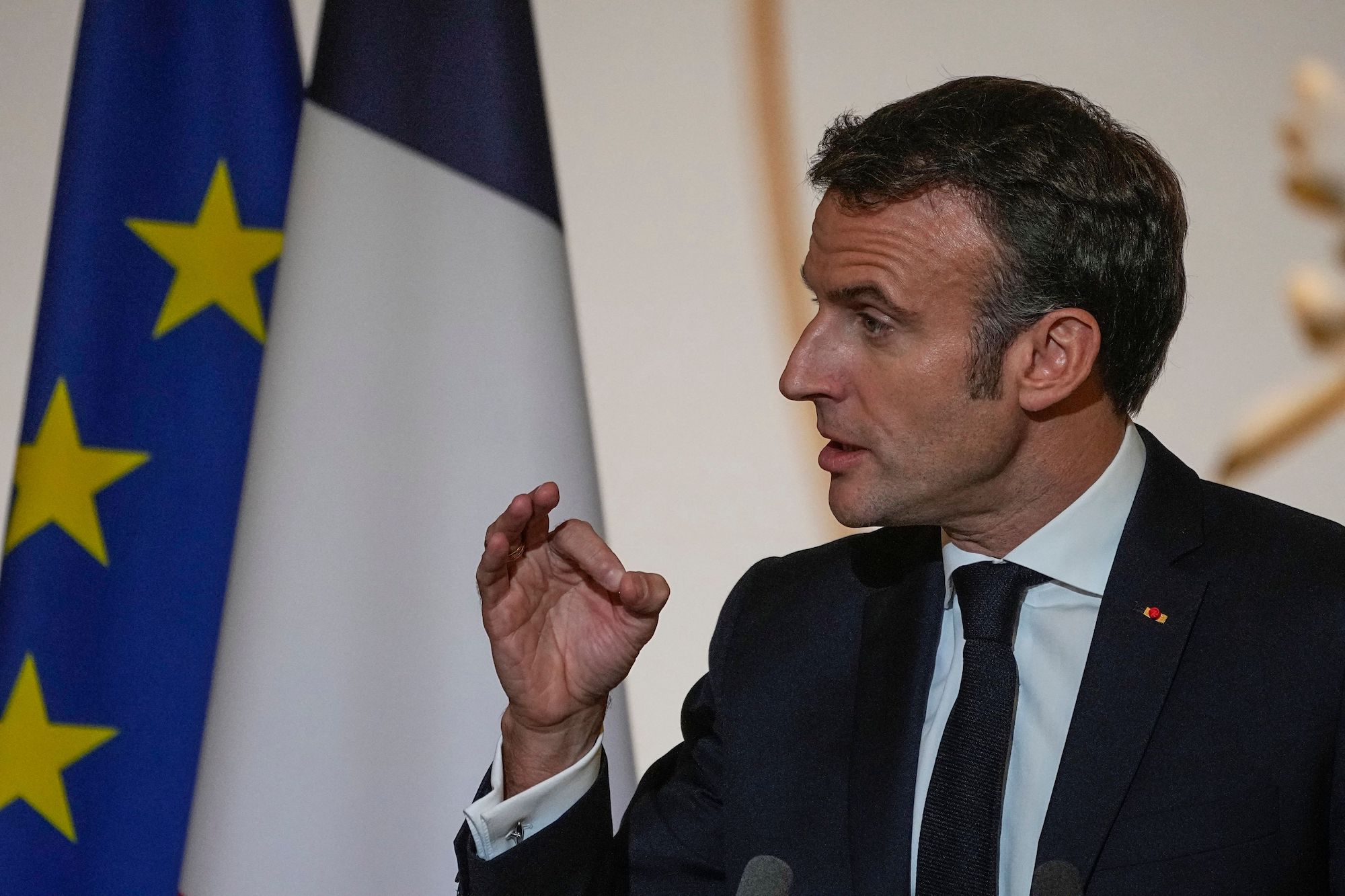 French President Emmanuel Macron delivers a speech at a reception for the mayors of France in Paris on Wednesday. (Michel Euler/Pool/AFP/Getty Images)
French President Emmanuel Macron on Wednesday denounced Russian attacks on civilian infrastructure in Ukraine and said the acts "cannot go unpunished."
"Ukraine suffered massive shelling today, leaving much of the country without water or electricity. Strikes against civilian infrastructures are war crimes and cannot go unpunished," Macron posted on Twitter.
A series of Russian airstrikes against Ukraine on Wednesday destroyed critical facilities, including energy infrastructure, housing, and a hospital maternity ward, where a newborn baby was killed. The large-scale assault also led to widespread blackouts in Ukraine and neighboring Moldova.
France plans to hold a donor conference in Paris next month in support of Ukraine and its southwestern neighbor, Macron said.
"With winter approaching, we will mobilize international support for Ukraine on December 13 to help that country remain resilient and to guarantee its energy access. We will not forget Moldova, which was also affected by water and electricity cuts," Macron tweeted.
Ukrainian President Volodymyr Zelensky earlier on Wednesday urged the UN Security Council to support the proposed Ukrainian peace formula following the airstrikes, which he dubbed "the Russian formula of terror."
44 min ago
Water supply restored to Kyiv's left bank, mayor says
From CNN's Josh Pennington
Water supplies have been restored to the left bank of Kyiv, Mayor Vitali Klitschko said on Thursday, adding that engineers had worked through the night to "restore the capital's life support."
The water supply in the Ukrainian capital was suspended Wednesday after Russian shelling of critical infrastructure in the region that killed at least seven people.
Across the Dnipro River, the water supply remains suspended Thursday in Kyiv's right bank, but plans are in place to restore it in the morning, Klitschko said.
Power cuts: Meanwhile, 70% of the capital remains without electricity, Klitschko added.
"Electricians are doing all they can to restore power as soon as possible. However, they noted that this will depend on restoring balance to Ukraine's energy system, given that Kyiv represents only a part of the whole national energy system," Klitschko said.
Emergency power cuts were introduced in Kyiv following Russian strikes on infrastructure facilities, the country's biggest energy supplier, Yasno, said in a statement Wednesday.
3 hr 2 min ago
Ukrainian President Zelensky urges UNSC to support "peace formula" following missile strikes
From CNN's Heather Law and Richard Roth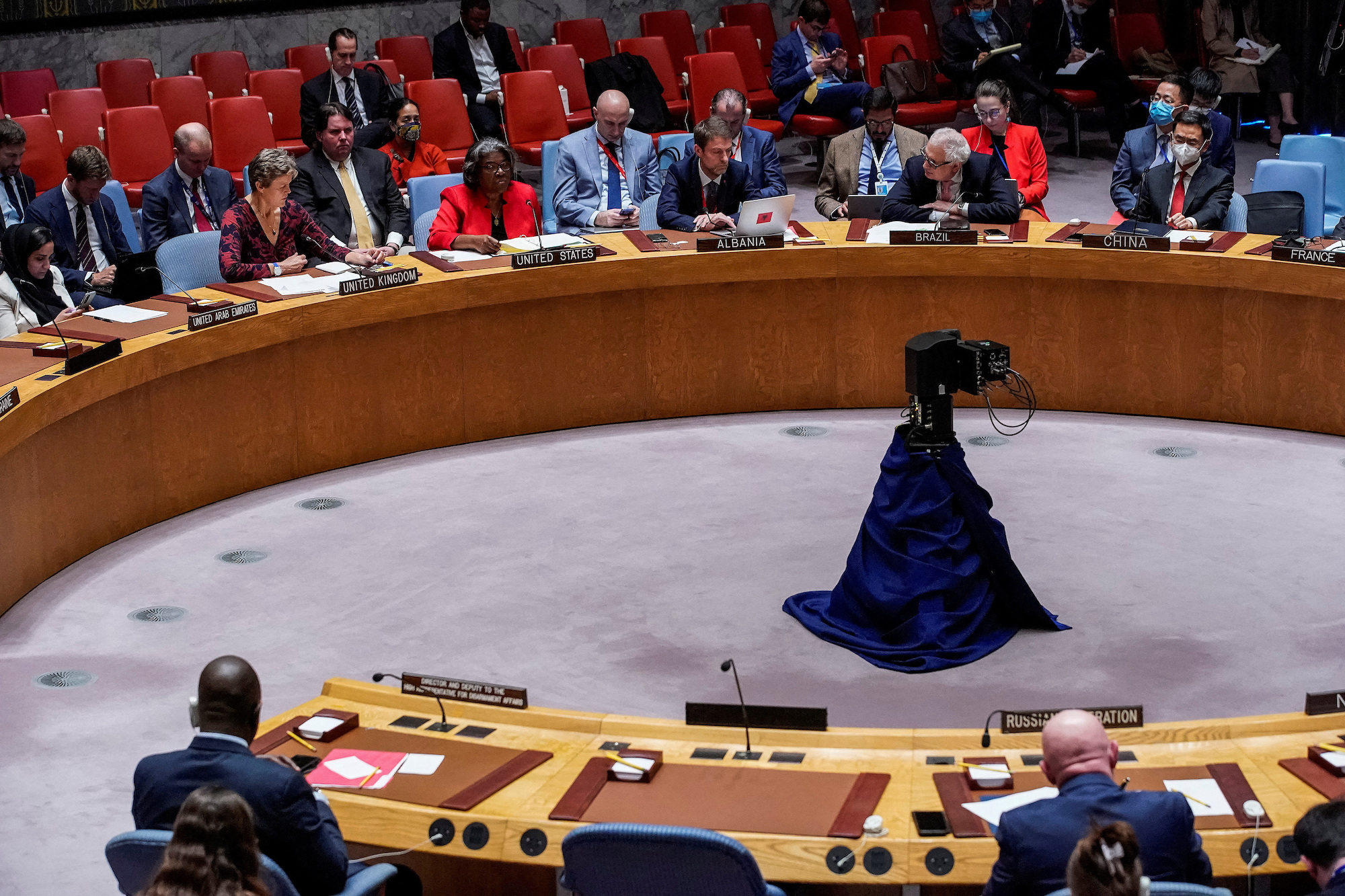 UN Security Council members at the United Nations headquarters in New York on October 27. (Eduardo Munoz/Reuters/FILE)
Ukrainian President Volodymyr Zelensky on Wednesday urged the United Nations Security Council to support the Ukrainian peace formula following a wave of missile strikes against the country that he dubbed "the Russian formula of terror."
"I emphasize yet again: it is high time to support the Ukrainian formula of peace. There should be no room for terror in the world," Zelensky said.
Zelensky emphasized the need for "modern and effective air and missile defense systems" after detailing the series of Russian airstrikes that destroyed critical facilities, including energy infrastructure, housing, and a hospital maternity ward, where a newborn baby was killed.
The large-scale assault on energy infrastructure also led to widespread blackouts in Ukraine and neighboring Moldova, an act Zelensky said was "analogous to using weapons of mass destruction."
"When the temperature outside drops below zero and tens of millions of people are left without electricity, heat and water as a result of Russian missiles hitting energy facilities, that is an obvious crime against humanity," Zelensky said.
US Ambassador Linda Thomas-Greenfield was one of several representatives to reiterate their support for Ukraine, with emphasis on condemning Russian attacks on Ukrainian energy infrastructure.
"Putin's motive could not be more clear and more cold-blooded. He is clearly — clearly —weaponizing winter to inflict immense suffering on the Ukrainian people. He has decided that if he can't seize Ukraine by force, he will try to freeze the country into submission," Greenfield said.
2 hr 44 min ago
We can't continue "counting on good luck" to avoid nuclear accident at Zaporizhzhia, IAEA director says
From CNN's Radina Gigova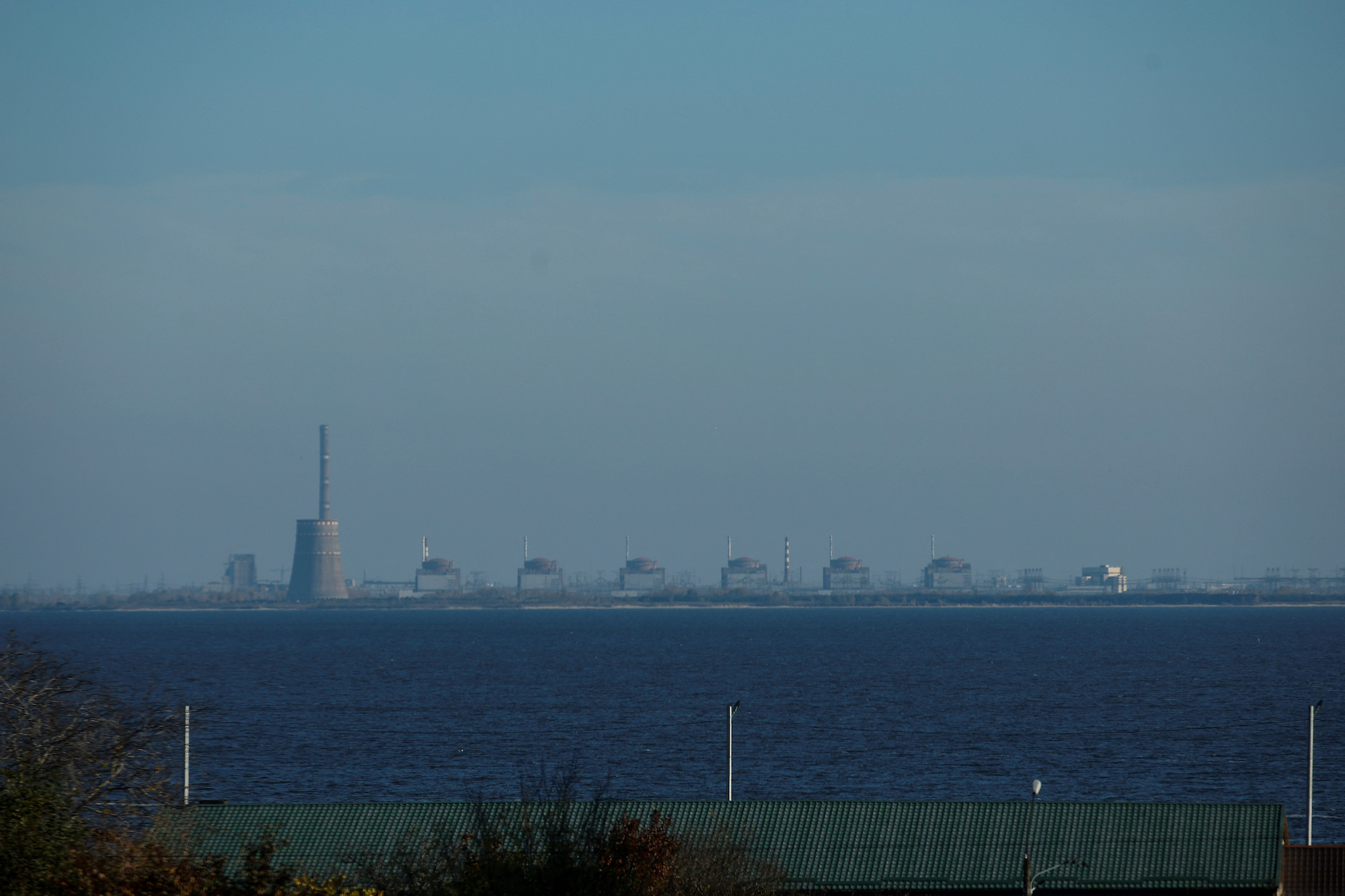 Zaporizhzhia nuclear power plant, seen from the town of Nikopol on November 7. (Valentyn Ogirenko/Reuters/FILE)
Negotiations with Kyiv and Moscow on the establishment of a safety zone around the Zaporizhzhia nuclear power plant continue — but in the meantime the director of the UN nuclear watchdog is warning about potential consequences.
"We cannot continue counting on good luck to avoid a nuclear accident," International Atomic Energy Agency (IAEA) Director General Rafael Grossi told CNN on Wednesday.
Grossi said negotiations are "moving forward" but "this is an active combat zone, therefore getting to agreed parameters for this is not such an easy thing to do."
The IAEA director said he met with a Russian delegation in Turkey earlier Wednesday and spoke with Ukraine's Foreign Minister Dmytro Kuleba on Tuesday.
"I am having consultations with both. I would not agree with the assessment that we are not making any progress, I think we are," Grossi said. "Of course, we are talking about something which is very difficult. This is war. This is real war and the protection zone that I am proposing is precisely on the front line, on the line where both adversaries are in contact."
"But we are moving forward I believe, and I hope that episodes as traumatic as the ones this past weekend may paradoxically help us move forward, in the sense that people need to realize that we cannot continue counting on good luck to avoid a nuclear accident," he said.
When asked who is "playing with fire," referencing Grossi's own remarks from Sunday following powerful explosions that rocked the nuclear power plant Saturday and Sunday, Grossi said "it is very difficult for us to identify from inside the plant who is doing that," adding "by the way, our main goal is to get this to stop, not to get into a game of attribution."
Later on Wednesday, the plant "once again lost access to external electricity" and was instead relying on its emergency diesel generators for the power it needs for reactor cooling and other essential functions, IAEA said in a statement.
7 hr 15 min ago
Russia threatens to cut supply of gas through Ukraine
From CNN's Anna Cooban and Uliana Pavlova
Europe is bracing itself for further cuts to its supply of Russian natural gas as Moscow threatens to slash flows to Moldova, Ukraine's southwestern neighbor.
Russian state gas giant Gazprom said Tuesday it would reduce shipments to the country starting Monday over disputed claims that Ukraine is withholding some of the gas as it is piped though its territory.
On its official Telegram account, the company said it would cut gas flows through the Sudzha transit point equal to the amount it claims Ukraine is preventing from reaching Moldova.
"The volume of gas supplied by Gazprom to the GIS Sudzha for transit to Moldova through the territory of Ukraine exceeds the physical volume transmitted at the border of Ukraine with Moldova," it said.
Ukraine has denied that it is withholding gas deliveries to its neighbor. Ukrainian state energy firm Naftogaz said in a Tuesday tweet that "Gazprom accused Ukraine of stealing gas. Once again. In short: this is not true."
The Gas Transmission System Operator of Ukraine (GTSOU) said in a statement that all Russian gas received at the Sudzha entry point for onward transit to Moldova was being transferred to exit points along their shared border.
The operator said that Moldova had initiated a "virtual reverse" of some of its Russian gas imports back to Ukraine, though it did not give a reason.
Such a reverse is a common commercial agreement whereby some of the gas destined for a particular location is diverted into storage or sold to a different buyer, analysts said.
Read more here.
7 hr 13 min ago
Biden administration condemns Russian strikes on Ukraine's power infrastructure
From CNN's Betsy Klein
The Biden administration on Wednesday condemned Russian strikes on power generating infrastructure across Ukraine.
National Security Council spokesperson Adrienne Watson said in a statement that Russia "is increasingly turning to horrific attacks against the Ukrainian people with punishing strikes damaging energy grid infrastructure, and deliberately doing so as winter approaches."
Watson said the strikes "do not appear aimed at any military purpose," but "instead further the goal of the Putin regime to increase the suffering and death" of Ukrainians.
The US also warned that the actions show "Russia is willing to increase the risk of a nuclear safety incident that could not only further harm Ukraine, but affect the entire region as well."
Watson's statement touted an additional $400 million security assistance package for Ukraine announced earlier Wednesday.
Power has been restored to almost 90% of the Ukrainian city of Lviv, officials said, following the Russian airstrikes that knocked out power to much of the country.
7 hr 28 min ago
Russian missile strike on Zaporizhzhia maternity hospital kills newborn baby
From CNN's Sana Noor Haq, Olga Voitovych, Andrew Carey, Victoria Butenko, Chris Liakos and Eve Brennan
A 2-day-old baby died in a Russian strike on a maternity hospital in Vilnyansk in southeastern Ukraine on Wednesday, as Moscow ramped up attacks on civilian infrastructure nationwide.
The newborn child's mother and a doctor were pulled from the rubble of the destroyed medical facility in Zaporizhzhia, as nearby private houses were also damaged in the devastating S-300 missile assault.
Ukrainian President Volodymyr Zelensky condemned the shelling and accused the Kremlin of trying "to achieve terror and murder," while first lady Olena Zelenska called the attack "insane."
"The enemy has once again decided to try to achieve with terror and murder what he wasn't able to achieve for nine months and won't be able to achieve," Zelensky said, referring to Russia.
The scenes from the attack on Wednesday mirrored those of a catastrophic strike on a maternity and children's hospital in the southern city of Mariupol in March, as part of Russia's wider campaign targeting health care facilities across Ukraine.
Ukrainian medical facilities have been hit by a wave of missiles in recent months, with the World Health Organization having identified some 703 attacks on medical complexes across the country since February.
Read more here.