1 min ago
Big rig slides off interstate in Texas during icy conditions, police say
From CNN's Caroll Alvarado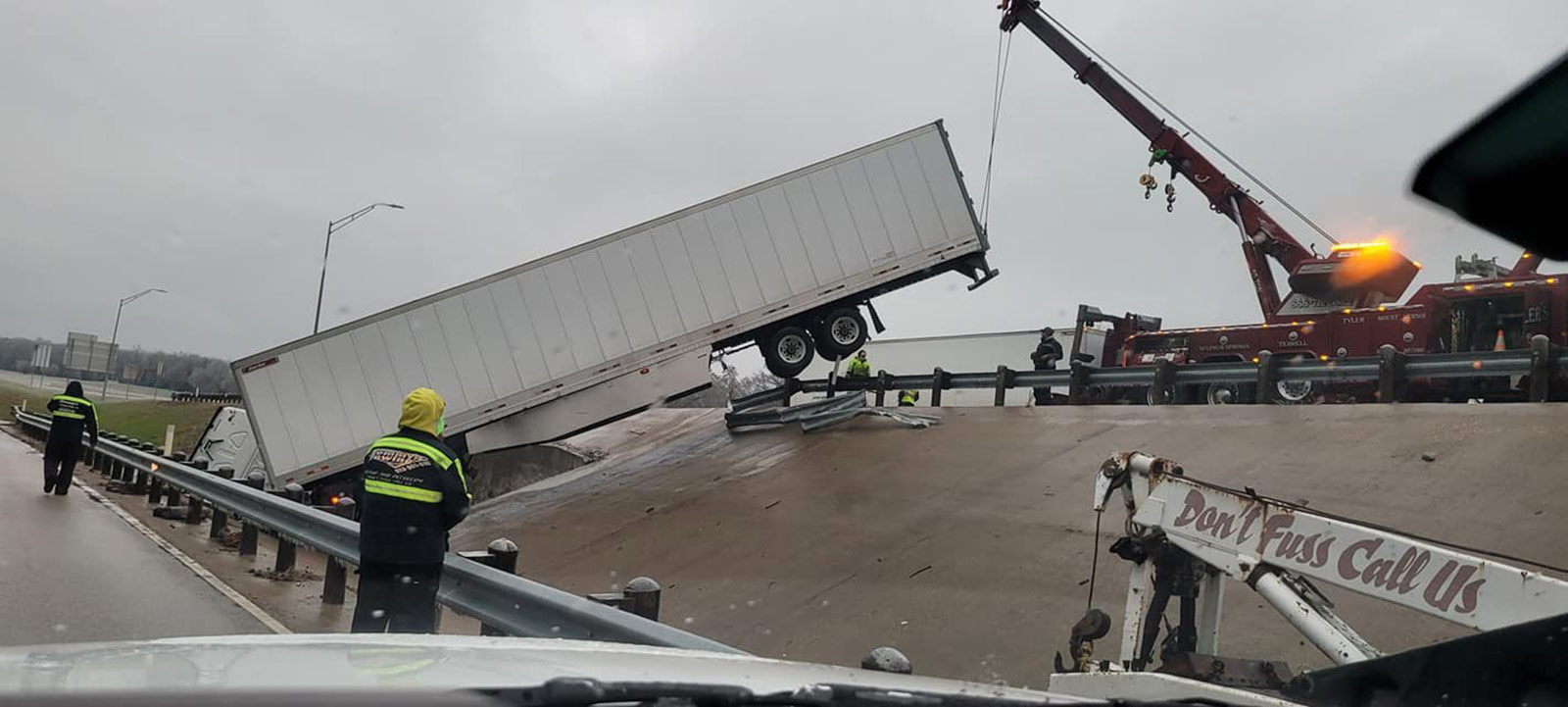 An 18-wheeler slid off Interstate 20 and crashed into the median in Van, Texas. (Van Police Department)
An 18-wheeler slid off Interstate 20 and crashed into the median in Van, Texas, according to the Van Police Department.
The accident occurred on the westbound lane of 1-20 near mile marker 520, police said. The city is located 75 miles east of Dallas.
No injuries were reported, but police warned drivers to slow down.
"Roads are slick, slow down and take your time," the department wrote on its Facebook page.
34 min ago
Driving in a winter storm can be dangerous. Follow these safety tips if you must go out.
From CNN's Alaa Elassar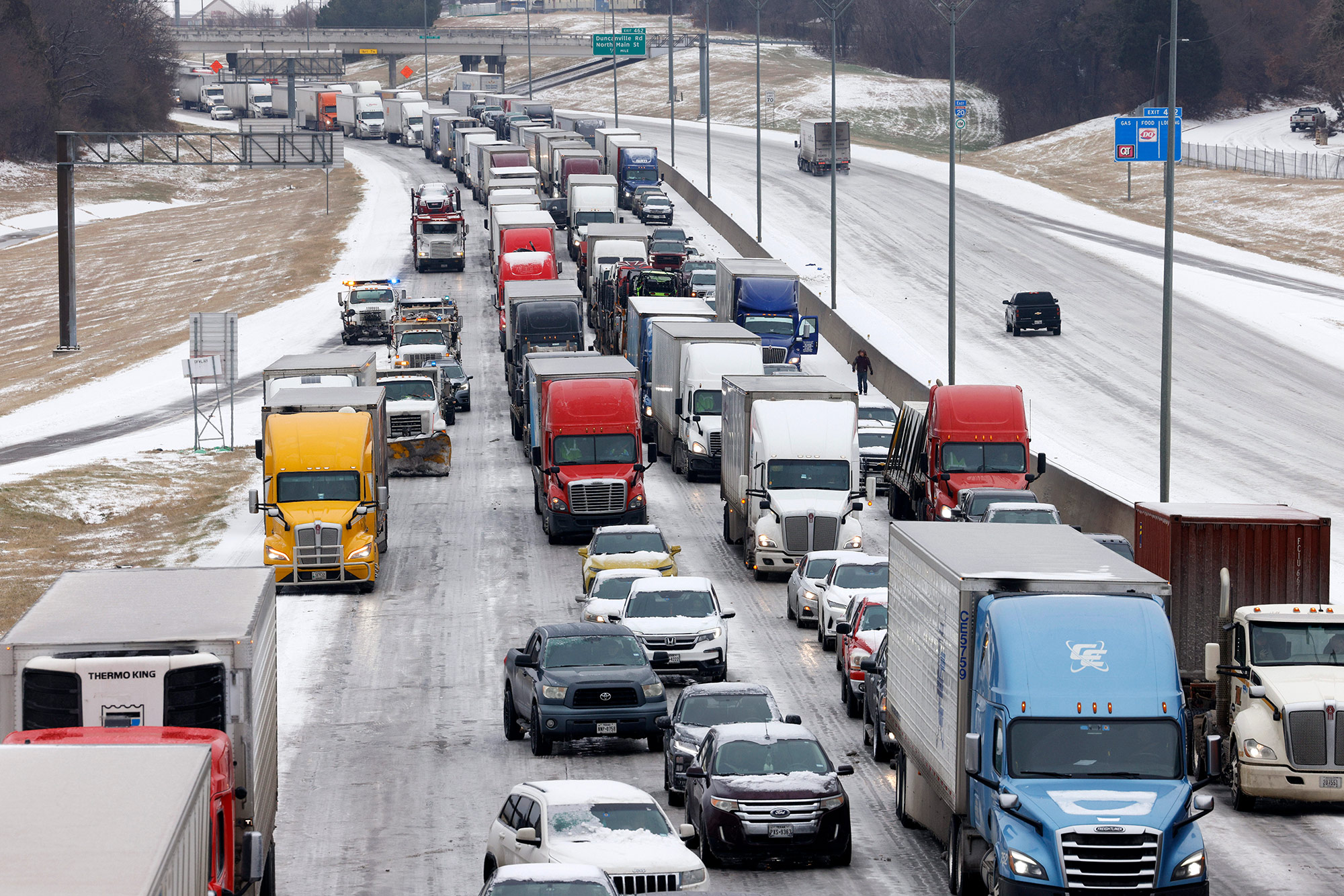 Traffic travels along a Dallas highway on January 31. (Elías Valverde II/The Dallas Morning News/AP)
Locally heavy freezing rain is occurring over southern and central Texas, causing concerns for widespread impacts to infrastructure. Ice accumulations could be a tenth of an inch or more per hour, the Storm Prediction Center warns.
Driving in a snowstorm is difficult. Add wind gusts and poor visibility, and travel can become downright dangerous.
If you have to drive, here are a few tips for staying safe in winter weather:
Pack a winter driving kit:
If motorists have any problems with their car's battery, brakes, heating and cooling system or ignition system, they should try to stay off the roads. For those who must go out, it's important to plan. The
AAA recommends
motorists
pack a winter driving kit
that includes a bag of abrasive material (sand, salt or cat litter), a snow shovel, traction mats, an ice scrape, booster cables and other essentials.
Drive slowly with headlights on low and avoid frequent stops:
When driving
in conditions with low visibility, motorists should proceed slowly with their headlights on low beam, the AAA advises. The AAA also recommends drivers avoid stopping if possible. Instead, motorists should drive slowly so their car keeps rolling without requiring a full stop.
Keep as much distance between your and other cars:
To safely brake if necessary on ice or snow, the AAA
advises
drivers increase following distances to 8 to 10 seconds. On highways, drivers should not change lanes often, as they can lose control driving over snow that gathers between lanes.
41 min ago
More than 200,000 customers without power in Texas
From CNN's Tina Burnside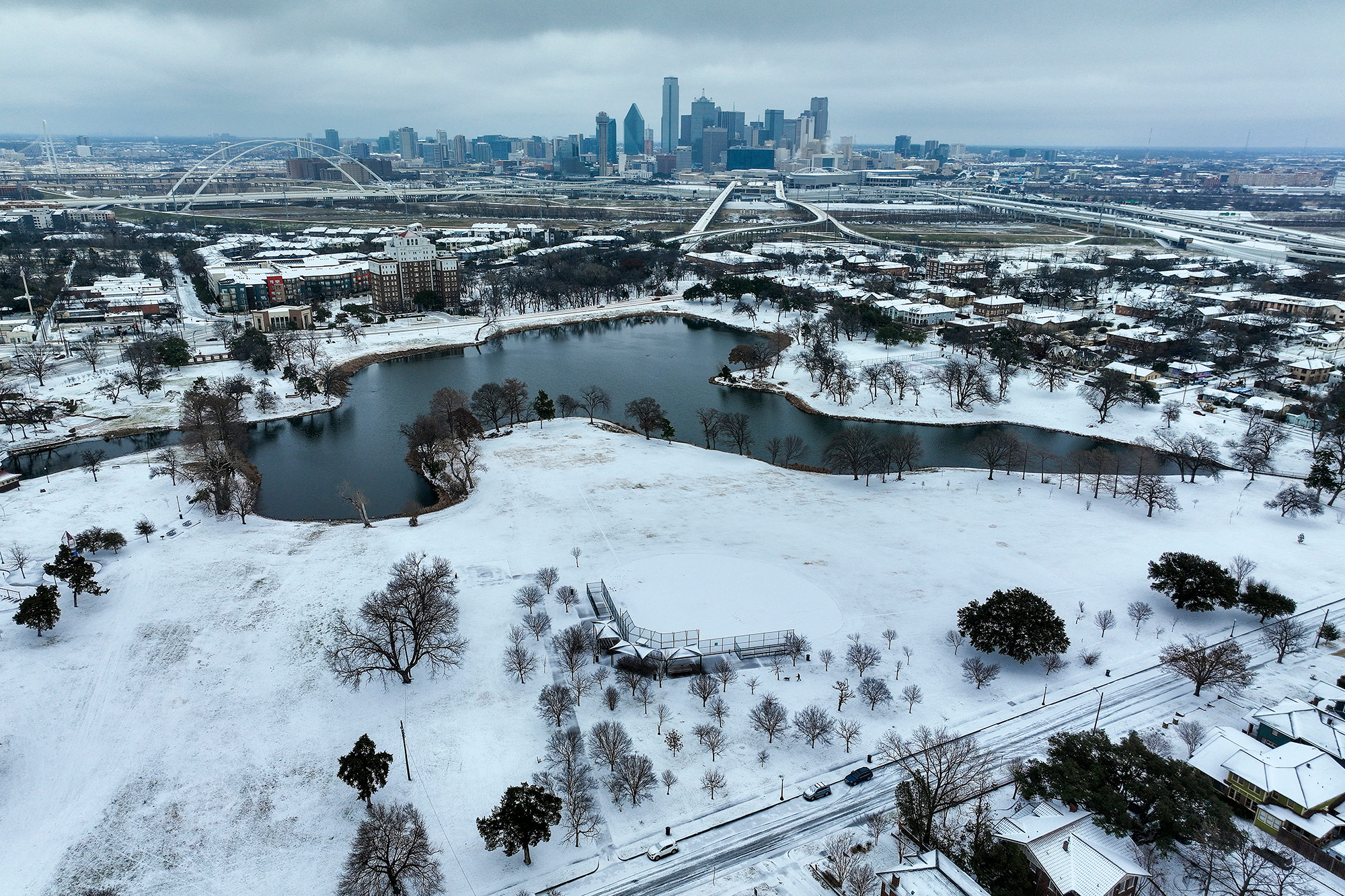 Snow blankets the ground in Dallas, on January 31. (Smiley N. Pool/The Dallas Morning News/AP)
The number of power outages across the state of Texas are growing as winter weather conditions wreaks havoc across the state.
As of 7:30 a.m. ET, more than 206,000 customers are in the dark, according to PowerOutage.US.
Just about two hours earlier, only around 100,000 customers were in the dark.
A large portion of the outages are in Travis County-Austin area, with more than 78,000 outages reported.
CNN's Chris Boyette contributed to this post.
42 min ago
More than 1,800 flights canceled today already
From CNN's Tina Burnside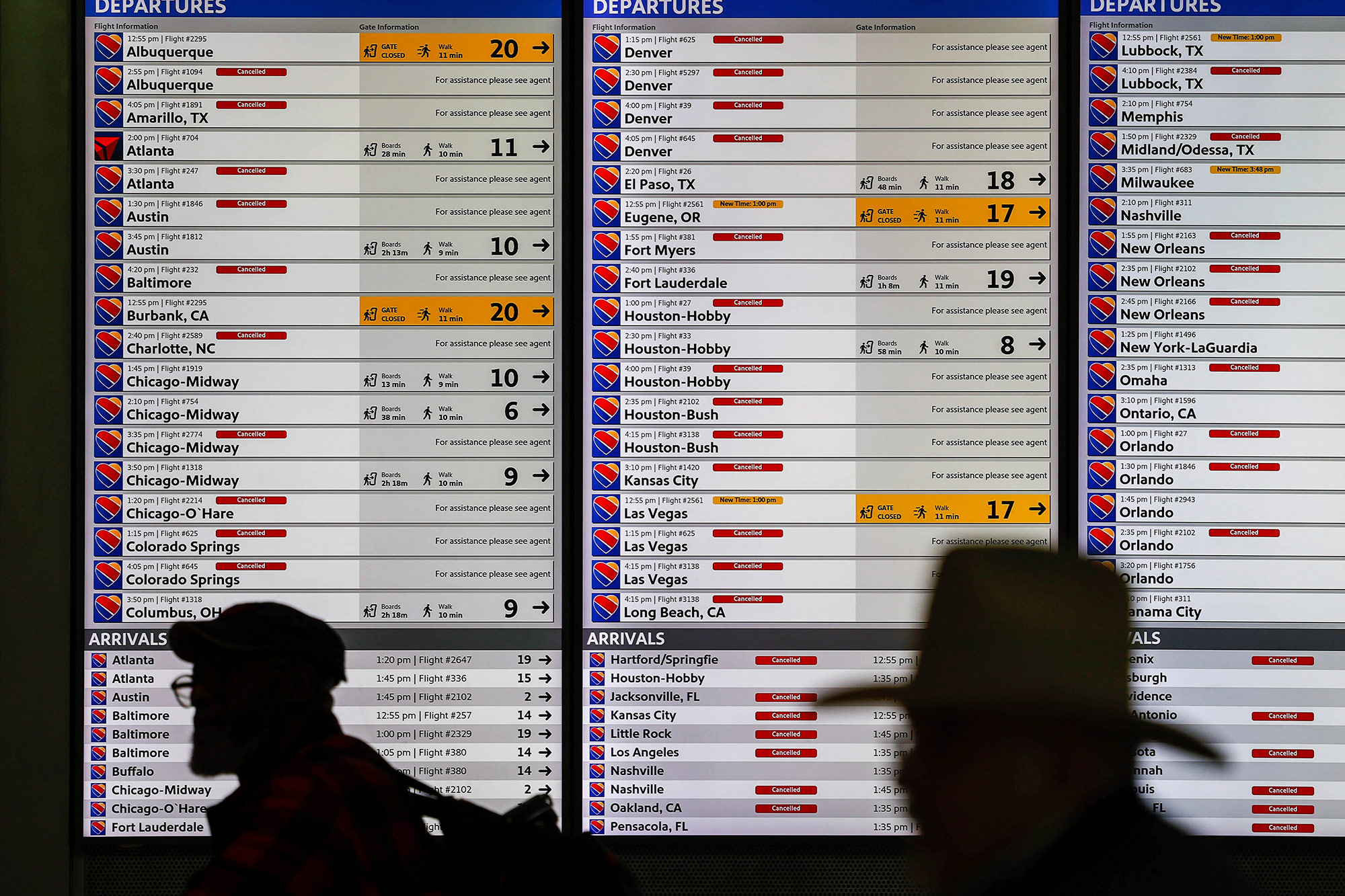 Canceled Southwest flights are displayed at Dallas Love Field Airport on Monday, January 30. (Lola Gomez/The Dallas Morning News/AP)
There are now more than 1,800 flights canceled for Wednesday, according to the latest information from FlightAware.
American Airlines and Southwest are both reporting the highest number of flight cancellations.
The airports that are experiencing the bulk of the cancellations are in Texas: Dallas-Fort Worth International, Dallas Love Field and Austin-Bergstrom International.
44 min ago
Heavy freezing rain spreading over much of central Texas
From CNN's Monica Garrett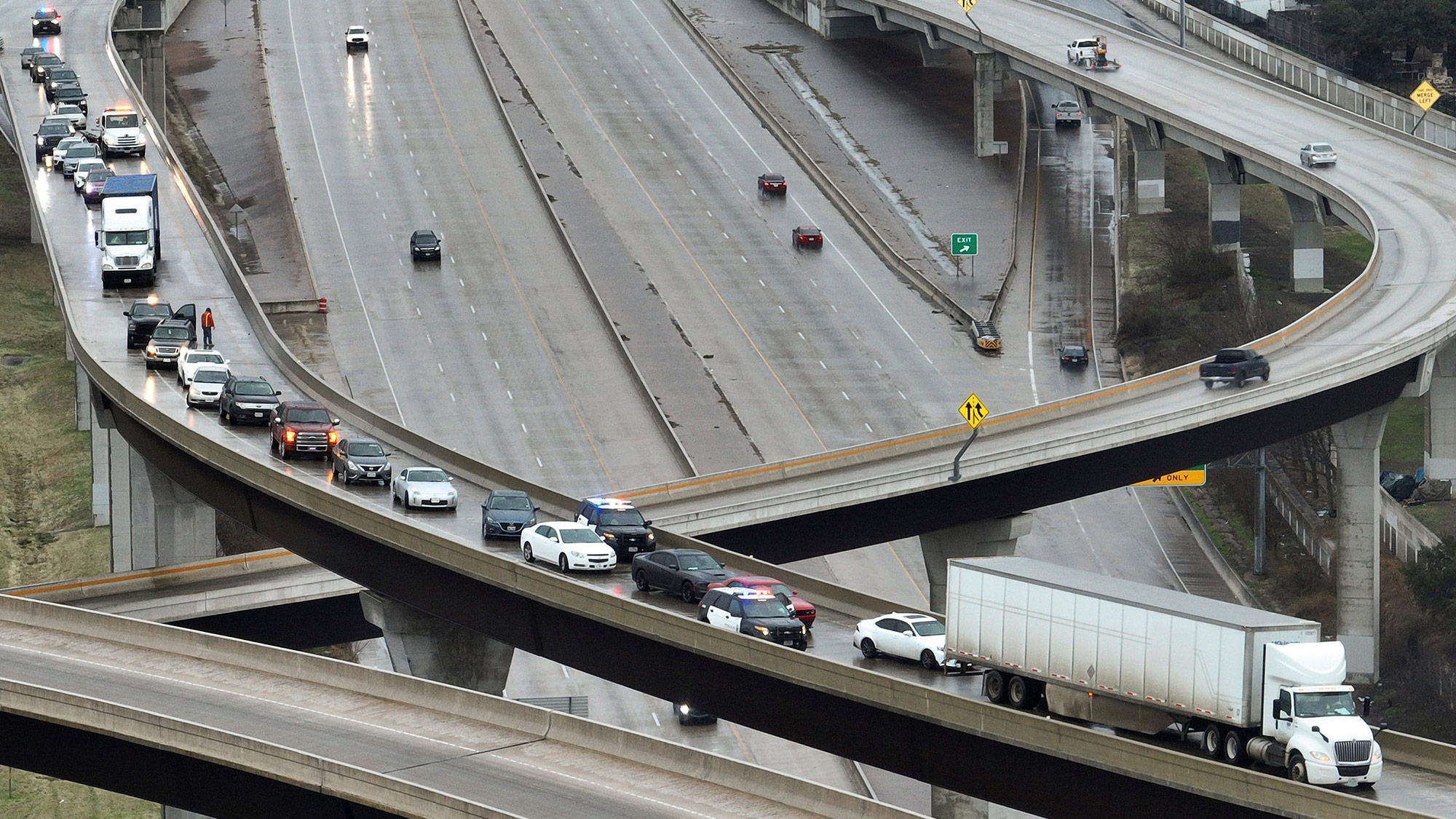 Cars are stuck on an icy highway in Austin, Texas, on January 31. (Jay Janner/Austin American-Statesman/AP)
Heavy freezing rain is impacting Austin, Texas, and much of central Texas Wednesday morning, leading to dangerous travel and rapidly rising power outages.
Multiple rounds of moderate to locally heavy freezing rain are likely in the Austin and San Antonio areas through early this morning, creating the potential for significant icing impacts along the Interstate 35 corridor in central Texas, according to the Storm Prediction Center. Ice accumulations of a quarter to half an inch are expected.
Another round of precipitation is expected again Wednesday evening, potentially as freezing rain with an additional quarter inch of ice possible. Ice over this region should end by late Thursday morning as temperatures warm back above freezing.
Texas has over 200,000 customers without power, according to PowerOutage.us. This is up from 30,000 customer outages just a couple hours earlier.
46 min ago
Ice storm warning issued for Dallas
From CNN's Monica Garrett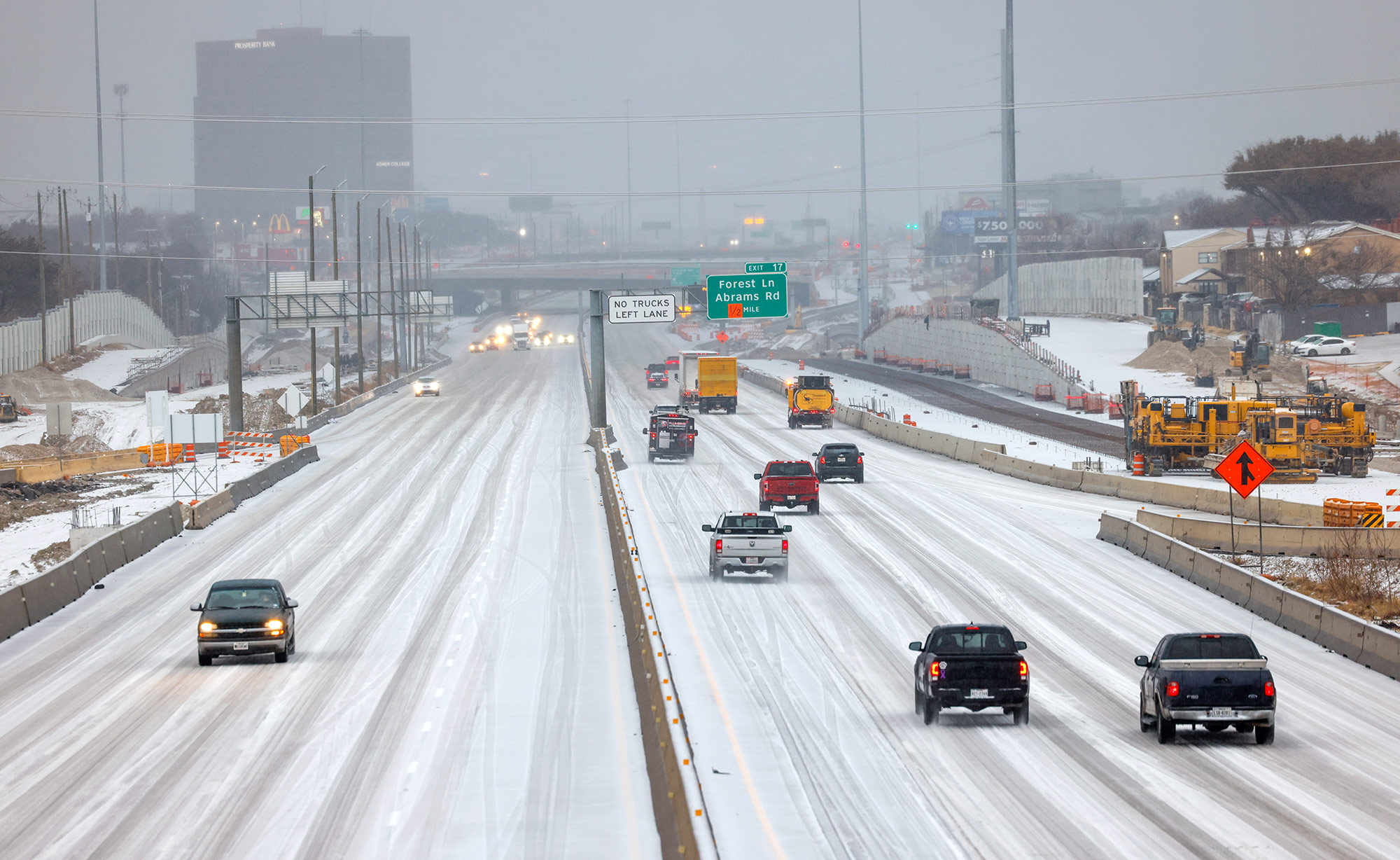 Motorists drive on icy roads in Dallas, on Tuesday, January 31. (Liesbeth Powers/The Dallas Morning News/AP)
The National Weather Service has issued an ice storm warning for Dallas from 6 a.m. CT Wednesday until 9 a.m. CT Thursday. This is an expansion of the ice storm warning that was previously issued for Fort Worth, to begin at the same time Wednesday morning.
Areas of freezing rain will develop this morning in the Dallas/Fort Worth area and continue into the overnight hours. Ice accumulations up to a half inch are possible. With this level of ice accumulation, power outages and tree damage is likely.
"Travel will be nearly impossible through Wednesday night," the warning states.
Dangerous travel conditions will continue into Thursday morning.
Ice storm warnings are in place for more than 12 million people across parts of six states and include Dallas, Fort Worth, San Angelo, Little Rock and Memphis.